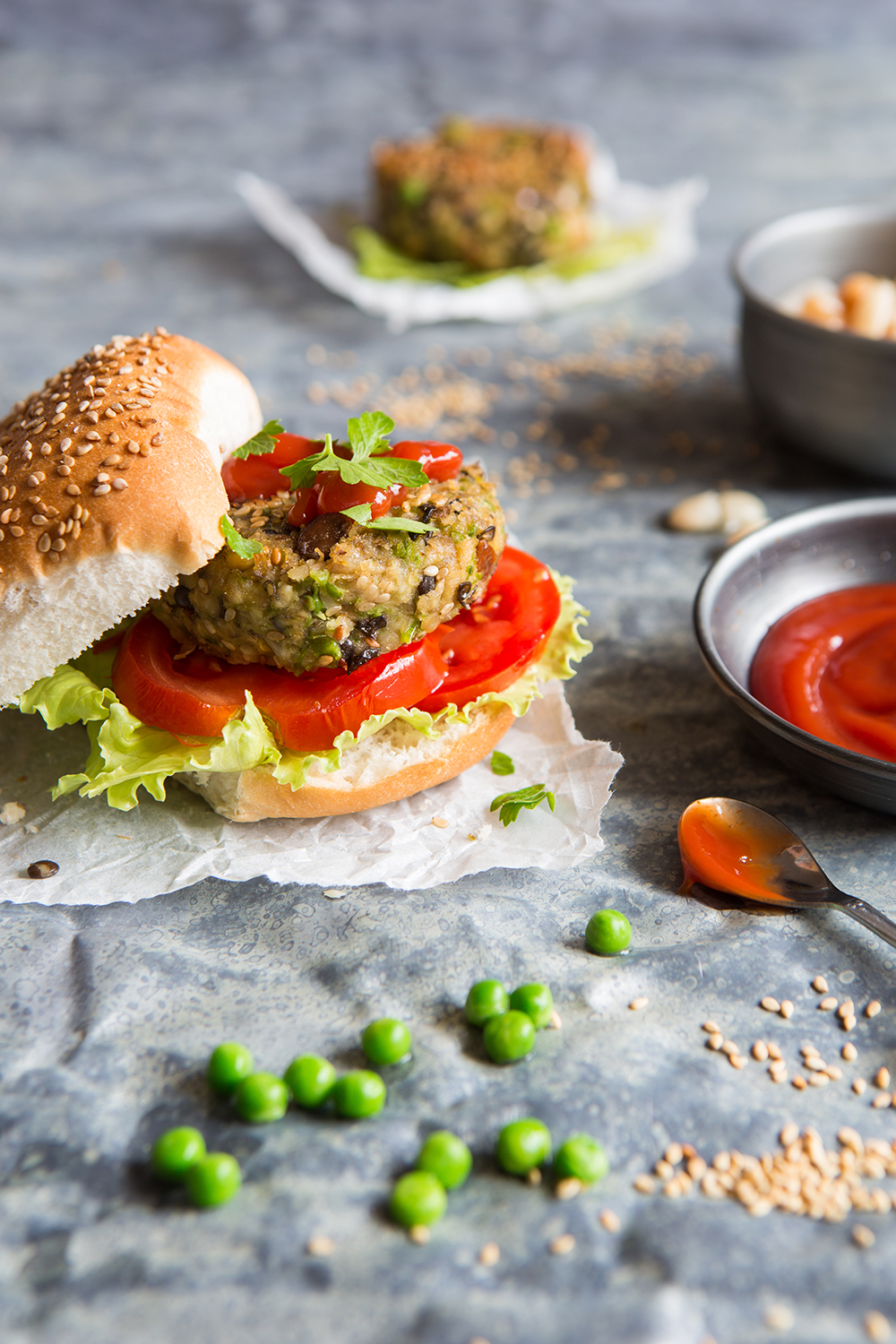 Bean burger made from bean, pea, lentils and bean sauce
A bean burger should not be missing in a bean book, of course. I think there are at least as many variations of the bean burger as there are types of beans. I add another one with my citizens. These citizens are surprising in many respects: they are very nice to see, have bite and are also very tasty. Besides the fact that they contain both white beans, peas and black lentils, they are also flavored with beans: with taotjo sauce from the toko. It gives them a deep and full taste. The oatmeal and the beans together form a full-fledged protein source. So these citizens are completely okay in every way. Tip: freeze a few, so you always have a nice vegetarian alternative at home.
What do you need? (6 pieces)
50 g abroad (approx. 125 g cooked weight), (or another type of lent)
100 g dried peas (soaked)
200 g white beans, rinsed and drained
75 g oatmeal (the cheaper fast cooking variant is fine)
½ onion, very finely chopped
1 clove of garlic, grated
½ red chili pepper, grated
75 g taotjo sauce
50 g sesame seed
vegetable oil or butter, or a combination
freshly ground pepper
What are you going to do?
Wash the lentils and put them with plenty of cold water. Cook them for 10 minutes in 20-30 (depending on the type). Drain and set aside.
Boil the peas in 3-5 for minutes in a layer of water al dente and let them drain.
Purée the white beans with the peas in the food processor to a coarse puree.
In a separate bowl, combine the oatmeal with the onion, garlic, chili pepper, the taotjo sauce and the cooked lentils. Add the bean pea puree here, add some pepper and mix well.
Put the sesame seeds in a deep plate.
Make equal portions of the bean mixture 6 (I do that with the ice cream roll). Use your hands to form balls that push you a little flatter to civilians.
Put a burger in the sesame seed and pan it on all sides. Continue until all citizens are breaded. You can bake them immediately, but it is better to have them stiffened.
Heat oil and / or butter in a frying pan and bake the burgers on each side in 3 à 4 minutes brown and crispy.
Serve, for example, on a sandwich with lettuce and sauce, or with a salad and some baked potatoes.
Source: Joke Boon
Summary