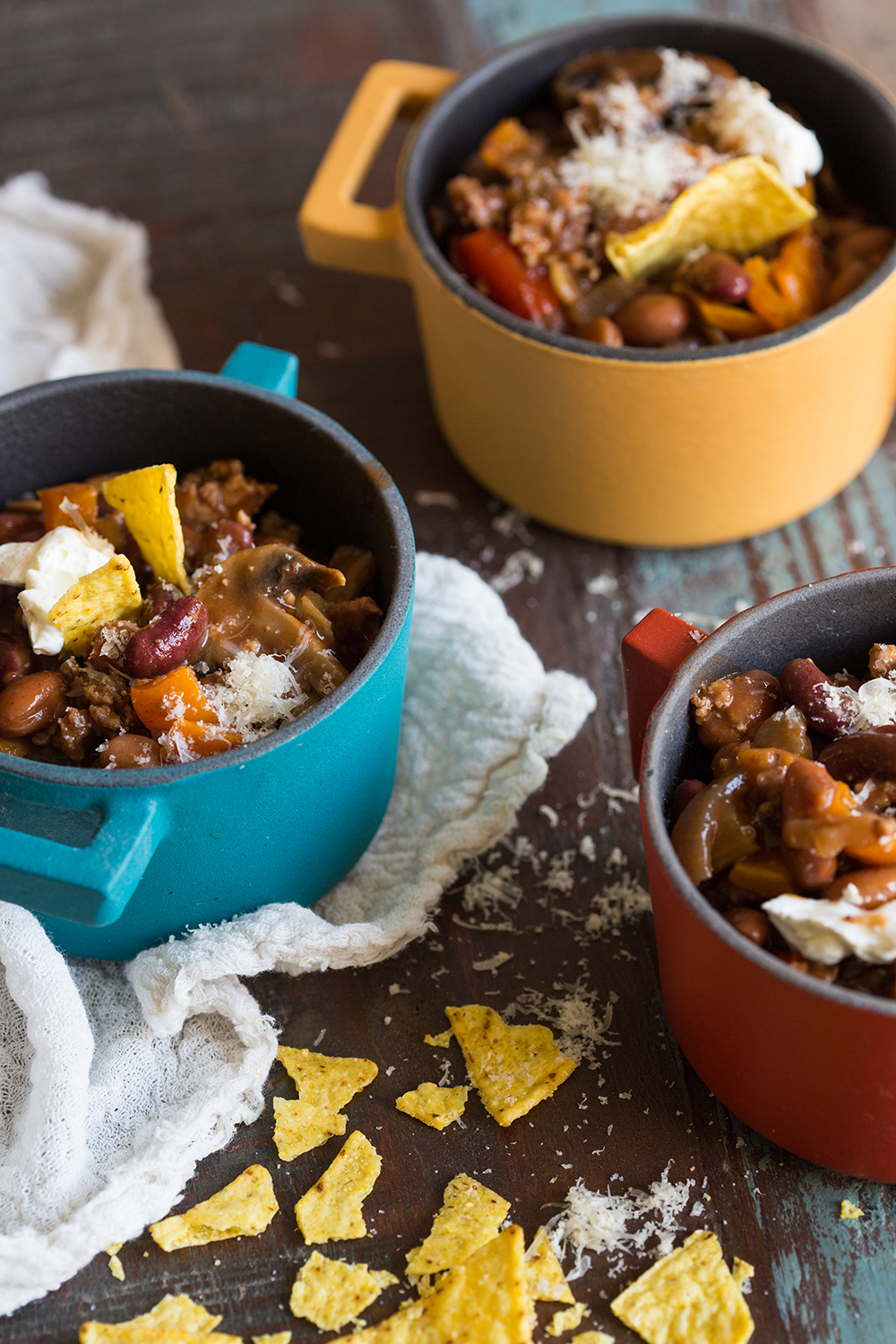 Special Chili Con Carne
'Do you also do something with coffee beans and cocoa beans in your book?' my daughter asks for breakfast. That is a good question. I have to check whether coffee and cocoa beans and legumes are related to each other, because in that case: I love coffee and chocolate. Chili con carne is really such a classic that everyone ever makes. I make this version in my very special way, with chocolate and cinnamon. This yields intense flavors. Really such a dish that you can look forward to.
And if something remains, then it is pure luck to know a leftover in your fridge the next day.
What do you need? (4 persons)
vegetable oil
300 g beef
1 tl paprika
1 red onion, chopped
1 white onion, chopped
1 stalk celery, finely chopped
250 g mushrooms, in slices
3 peppers, diced (all color combinations are fine)
1 small can of tomato paste (about 75g)
800 g dried kidney beans
400 g dried kidney beans
2 el chilli sauce
30 g extra pure chocolate (76% cocoa)
1½ tsp cinnamon1 tl ground cumin
½ tsp chili powder
salt and freshly ground pepper
What are you going to do?
Soak the kidney beans and kidney beans. View the exact weekly times here.
Boil the kidney beans and kidney beans (separately) in clean water and cook them until about 1 ½ hour.
Heat a good splash of oil in a frying pan. Fry the minced meat gently while you crush it with a ladle or fork to make it freeze. Sprinkle with salt, freshly ground pepper and the paprika powder.
Add the onions and the celery, and fry them with the mushrooms. Then add the mushrooms and fry briefly.
Now add the kidney beans, the kidney beans and the spicy chili sauce. Keep on well.
Add the bell peppers and shovel. Let this 3 minutes fry and then add the tomato puree, which you will briefly fry to allow to deacidify.
Now add the brown beans with the moisture and the kidney beans with the sauce. Keep on well.
Break the chocolate into pieces and add it together with the cinnamon, cumin and chili powder. Keep on well.
Put the pan on a small gas burner or on a flame distributor and let the chili gently simmer 30 minutes. Add some water if necessary.
Taste and if necessary season with salt and pepper.
Left over? Cover an oven dish with the chili, divide it with tacochips, and sprinkle with spicy grated cheese. Place 15-20 minutes in an 180 degree oven. Tasty with guacamole and sour cream. Or make it a soup: puree part of the chili with (vegetable) broth and mix it with the non-mashed chili. Bring to the boil while stirring. With a cheese toast you have a tasty and fast meal.
Source: Joke Boon
Summary